Vernon and Eileen Davidson have been raising beef cattle together since 1975. 40+ years later, the DVE prefix can be seen in many herds across North America, and beyond.
---
Thank You!
Thank You to all Our Buyers, Bidders and Attendees that participated in our 29th Annual Bull Sale! And to our Friends, Family, and Neighbours, thank you for all you do Sale Day and throughout the year!
---
MARK YOUR CALENDARS!
BULL SALE, MARCH 3rd
Davidson Bull Performance & Scrotal Info
Lonesome Dove Bull Performance & Scrotal Info
We update this regularly, so please
check back for the most current stats.
Sale Order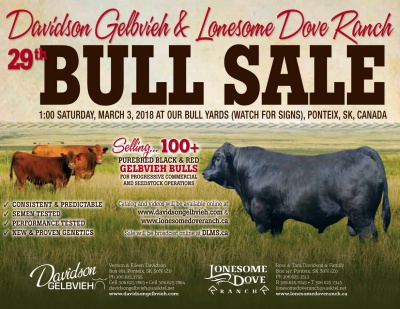 CLICK HERE FOR THE SALE CATALOGUE
With Lonesome Dove Ranch, we've got more than 100 purebred black and red Gelbviehs being offered on Saturday, March 3rd. Whether you are in need of heifer bulls or performance bulls, you'll get to select from a cracking good group of bulls, consistent yet diverse in their bloodlines. These reputable bulls are backed by a program 30+ years in the making. Make this your one-stop-shopping event!