Vernon and Eileen Davidson have been raising beef cattle together since 1975. 30+ years later, the DVE prefix can be seen in many herds across North America, and beyond.
---
What's Coming Soon?
• The girls did great! We are so proud to announce that DVE Davidson Ms Jumpstart 83C was the Gelbvieh rep in the First Lady Classic. She was also the 2016 National Junior Champion Female! DVE Davidson Ms Hoss 11D won the Sweetheart Classic at Agribition, AND DVE Davidson MS Navaho 26B was named Grand Champion Female! Pictures on our News page.
• In September 2016, Davidson Gelbvieh had these Dams of Merit and/or Dams of Distinction as recognized by the Canadian Gelbvieh Association.
• Stop by and visit our displays at the National Western Stock Show in Denver.
• Mark your calendars for March 4, 2017 for the Davidson Gelbvieh and Lonesome Dove Ranch 28th Annual Bull Sale!
2017 Sale Bull Performance Sheets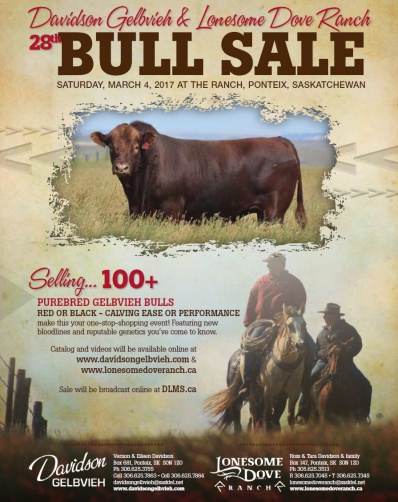 CLICK FOR AN ENLARGEMENT<!-img src="images/pasture4.jpg" width=400 height=224 border=1 Alt="Looking over the herd">

We were very pleased with our showings at Farmfair and Agribition this year.
Click here for photos from the 2016 Fall Shows
HOW TO GET HERE - Watch for signs! From Cadillac, Saskatchewan, travel 6 miles south, (turn at church) 8 miles east and 1/2 mile north. From Ponteix intersection, travel 6 miles south, 3 miles west and ½ mile north. From Val Marie, Saskatchewan, travel north approximately 28 miles (turn at church), travel 8 miles east and ½ mile north.