Vernon and Eileen Davidson have been raising beef cattle together since 1975. 30+ years later, the DVE prefix can be seen in many herds across North America, and beyond.
---
What's Coming Soon?
• Hope to see you at our Open House & Summer Pasture Tour, July 23rd. Co-hosts: Lonesome Dove Ranch, Ross & Tara Davidson and Family.
We'll meet at 1 pm at our Bull Sale Yards for a pasture tour of the cows, calves, and herd bulls. Then Beef Supper, hospitality, and visiting at 6 pm.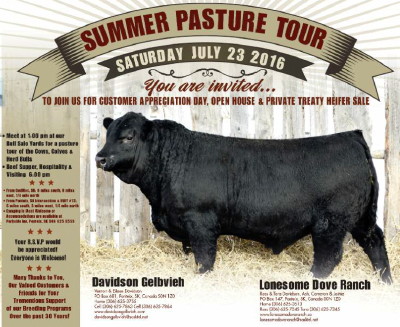 CLICK FOR AN ENLARGEMENT<!-img src="images/pasture4.jpg" width=400 height=224 border=1 Alt="Looking over the herd">
TOUR LOCATION AT OUR FARM - Watch for signs! From Cadillac, Saskatchewan, travel 6 miles south, (turn at church) 8 miles east and 1/2 mile north. From Ponteix intersection, travel 6 miles south, 3 miles west and ½ mile north. From Val Marie, Saskatchewan, travel north approximately 28 miles (turn at church), travel 8 miles east and ½ mile north. Watch for signs!