Vernon and Eileen Davidson have been raising beef cattle together since 1975. 40+ years later, the DVE prefix can be seen in many herds across North America, and beyond.
---
What's the Latest?
Davidson Gelbvieh will be at Farmfair International in Edmonton, Canadian Western Agribition in Regina, and the National Western Stock Show in Denver. Please stop by and visit our displays.
We are gearing up for our 29th Annual Bull Sale, March 3, 2018. We are selling 100+ Purebred Black and Red Gelbvieh Bulls.
On Saturday, July 22, 2017 Davidson Gelbvieh and Lonesome Dove Ranch hosted their Annual Open House, Customer Appreciation Day and Pasture Tour in the Ponteix, Saskatchewan area. With the help of friends, cattle in several pastures were gathered for viewing. The good day included a beef supper, socializing and visiting, and was enjoyed by many! Photos Here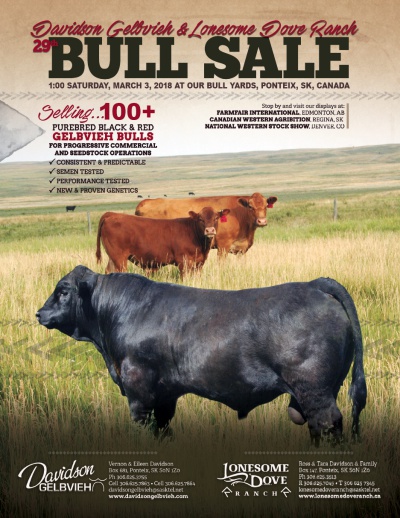 Click for an enlargement for your fridge or office.
Sale Bull Performance - Current to Sept 24, 2017