Vernon and Eileen Davidson have been raising beef cattle together since 1975. 40+ years later, the DVE prefix can be seen in many herds across North America, and beyond.
---
What's the Latest?
We had a great time at the winter shows. Always nice to visit with fellow producers at Farmfair, Agribition, and Denver. Some of our family attended the Medicine Hat Pen Bull Show, too! Now, we are preparing for our Annual Bull Sale!
---
MARK YOUR CALENDARS!
BULL SALE, MARCH 3rd
2018 Bull Performance & Scrotal Info
We update this regularly, so please
check back for the most current stats.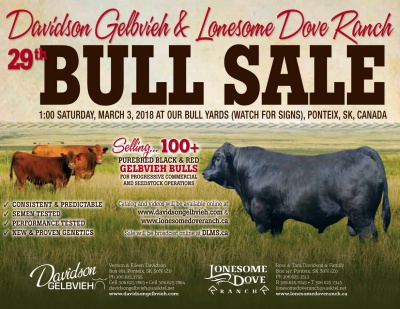 CLICK HERE FOR THE SALE CATALOGUE
SALE BULL VIDEOS ARE NOW AVAILABLE!