About Us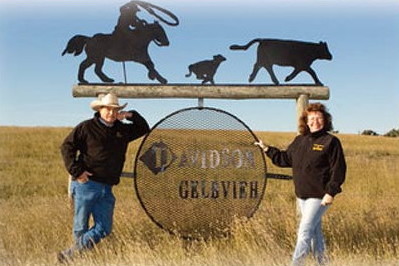 Vernon and Eileen are beginning this year 2019, 44 years, of raising beef cattle together. Initially they grew up not far from one another, where their respective families raised commercial cattle and grain. Nearby are the small towns of Cadillac and Ponteix in southwest Saskatchewan, Canada. This area is considered semi arid, with total moisture for a year including melted snowfall at 13 inches. This area is part of the larger area named The Palliser Triangle. After Vernon and Eileen were married in 1976, they raised commercial cattle for many years.
Vernon purchased his first farmland at Cadillac when he was 17 years old, while completing his last year of high school. More land has since been added to that first 3 quarters of rocky farmland, and over time many grain fields have been re-seeded to tame grass. Native pasture for grazing and grain production for feeding or selling, rounds the typical production cycle out each season.
Over the years the Gelbvieh breed kept on speaking for itself in their feedlot, in the replacement females and the resultant calf crop too. They appreciate the calving ease, easy fleshing abilities, temperament, muscle, carcass yield, and the maternal, yet terminal characteristics the breed contributes. More than 30 years ago, Vernon & Eileen decided to specialize and established the DVE prefix and the cattle company - Davidson Gelbvieh. They have been members of the Canadian Gelbvieh Association and the American Gelbvieh Association. Over the years, the commercial herd was sold and they began growing their herd of initially, fullblood, and now purebred Gelbvieh cattle. Black purebred genetics were first introduced in the fall of 1990 with the purchase of embryos from the Beartooth International Ranch at Columbus, Montana. Paying close attention to bloodlines that could be depended on to add pounds at weaning, structural balance, yield, and eye appeal were some of their selection tools. Testicle size and problem free udders went along with their plans to balance a program, with a reputable herd that could be depended on to be predicable!
Their family of one daughter, Carla, and three sons, Glen, Ross and Tyler, were all instrumental as they contributed to the every day learning and development of a seedstock operation. They were a huge part of that early success: halter breaking, selecting, breeding and showing cattle, that would be part of the much larger picture down the road. Industry cattle events and trade shows were, and are, a very enjoyable time of the year for all of us, and a time to get to know fellow cattle breeders across the industry. Vernon & Eileen participate along with some of their family, each year, in events such as the Canadian Western Agribition in Regina, Saskatchewan, Farmfair International in Edmonton, Alberta and the National Western Stock Show in Denver, Colorado. Vernon often kids that we can't go anyplace unless we have a trailer and a cow along with us! We are very proud and richly blessed to have Three Daughters In Law Julie, Tara and Melanie and a Son In Law Mario and 11 young Grandchildren, 11 years and under!
---
Congratulations to Ross & Tara Davidson on the birth of little Flynn, a new babe for Ash, Cameron & Jaime.
Today, Vernon & Eileen breed over 285 purebred mamas on tame and native pastures. Using mostly natural breeding service, each group of cows are Pre-selected and serviced in their individual pastures by one bull in each breeding field. Select herd-sires purchased and/or selected to further the qualities they work to improve upon each breeding season, are depended on. Cows are grazed for the most part from the 20th of April until the snow and cold make that not so good in December. Depending on growing conditions, calves are weaned in mid-September to early October, and scored for their next fate, whether it is the commercial marketplace, the replacement heifer pen or for bull development. Cows are pregnancy tested at this time as well. Only bred cows get to stay; the rest are sold. Culling is ongoing. Calving begins in late January or early February each season. Mild winters make for easy calving, but the area tends to be windy, open country, so shelter provided by a heated calving barn and wood slabs make it all possible. Traditionally, winters are not deep with snow, but it can be cold with temperatures as low as minus 40 degrees - and more if you take the wind into consideration. We occasionally get some respite during calving with a much anticipated February thaw.
The Davidson Gelbvieh & Lonesome Dove Ranch will host their 31st Annual Bull Sale on Sat., March 6th, 2020 at the ranch.